Well what a start to the new year with the hot weather. For some its been a normal weather pattern but for most far from normal. The 47.3C in Penrith yesterday took the cake and was the hottest place on the planet for the day.
I hope everyone is ok. As a STA member said on their facebook "you and your staff are more important than your turf". In saying this please communicate with your powers that be that this period is stressful and you are doing everything you can to keep everything alive. There is unrealistic expectations out there but you need to drum into them that safety is paramount.
I know people have been spraying regularly with this weather in all areas. For those in the hot parts keep the basics going. Don't try to do too much. Use the cultural practices you now work well. Shorten wetting agent intervals and use the tablets when had watering.
Keep applying fungicides on a prevention program. Note with systemic fungicides on stressed turf and in this weather systemic fungicides can take a while to be absorbed by the plant because its not function properly. So be patient. Contact fungicides such as Dacogreen WeatherShield is ideal to use this time of year as well as contact fungicides do not have any issues with weather conditions and will work straight away.
For those experiencing humid tropical wet conditions do not expect your fungicides to last 28 days or even 21 days. Disease pressure is too high. So keep your sprays short and mix up your groups. A while ago I published this chart for Australian Fungicides- take a look at it it will help greatly.
Turf Rate List Australian Fungicides 2017
Thanks also to Jyri Kaapro for posting this on twitter. It gives a good indication of rainfall or lack of in parts of Australia for the last 3 months.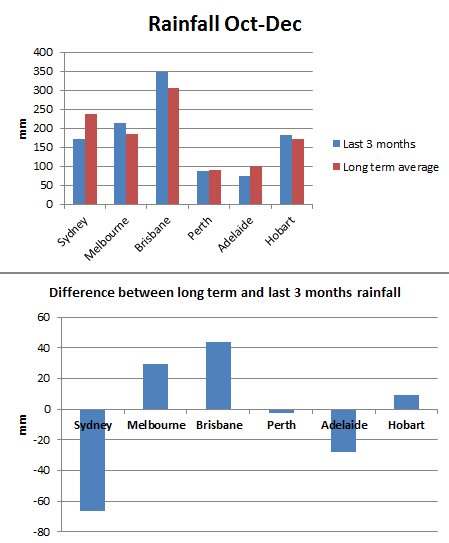 Lastly Monstar is now fully registered for fairy ring control a copy of the label can be downloaded here
Cheers for now